News » Building of the Year: The Thomas P Murphy Design Studio Building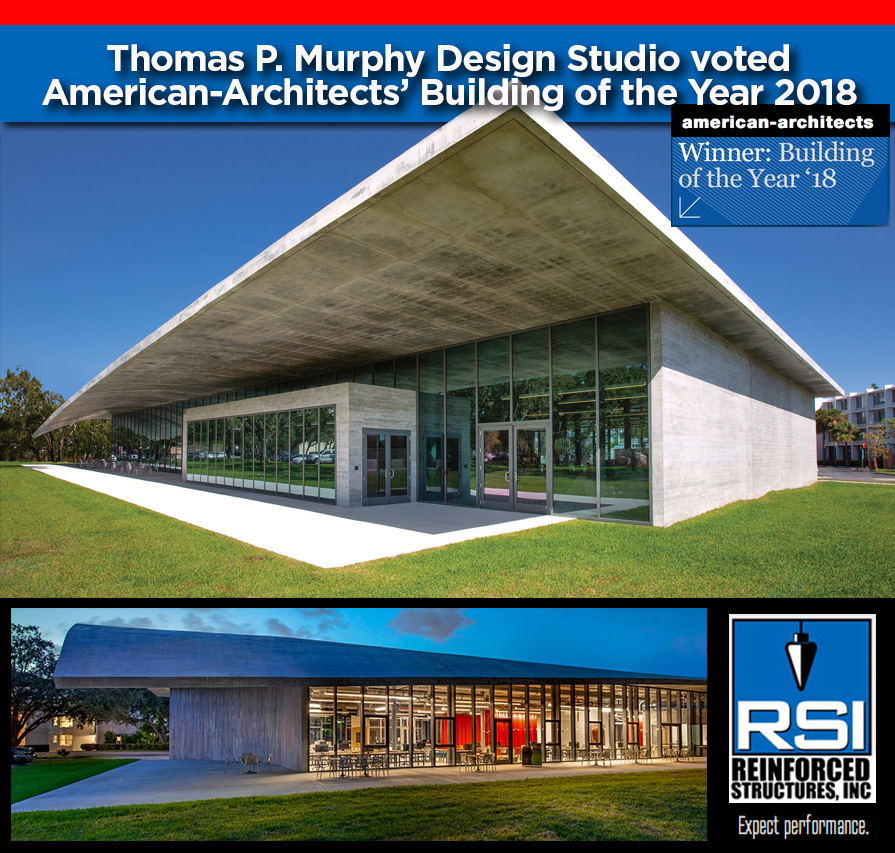 RSI recently shared the honor of American-Architects 2018 Building of the Year for their architectural concrete work on The Thomas P. Murphy Design Studio on the campus of the University of Miami School of Architecture.
The Thomas P. Murphy design studio competed against 43 other projects nationally to win 38 percent of the more than 4000 votes cast, making them the first-place winner by a large margin.
RSI provided a turnkey concrete package for the building, including the dramatic, curved concrete roof over the 20,000 square foot, open-plan building. The roof looks melted by the Florida heat, but is actually twelve-inch thick concrete that gracefully drapes over the main entrance and sides and serves as a shade from the relentless Florida sun.
"We were honored when Coastal Construction chose us to help create such a beautiful and important building that highlights the craft, creativity, and ability of RSI's team," said Steve Whitley, CEO of RSI. "On such a complicated building, a great design by Arquitectonica and fantastic construction management by Coastal really made our job easy" continued Steve. "We're thrilled that the project won and thrilled to have played a small role with these two power-house firms."
The building is named in memory of Thomas P. Murphy, Sr., the father of Tom Murphy, Jr., the President and CEO of Coastal Construction Group, the general contractor for the project.
Please go here to read more details about the award: https://www.world-architects.com/en/architecture-news/found/florida-architecture-school-wins-us-building-of-the-year.