News » RSI Receives Sunshine State Safety Recognition Award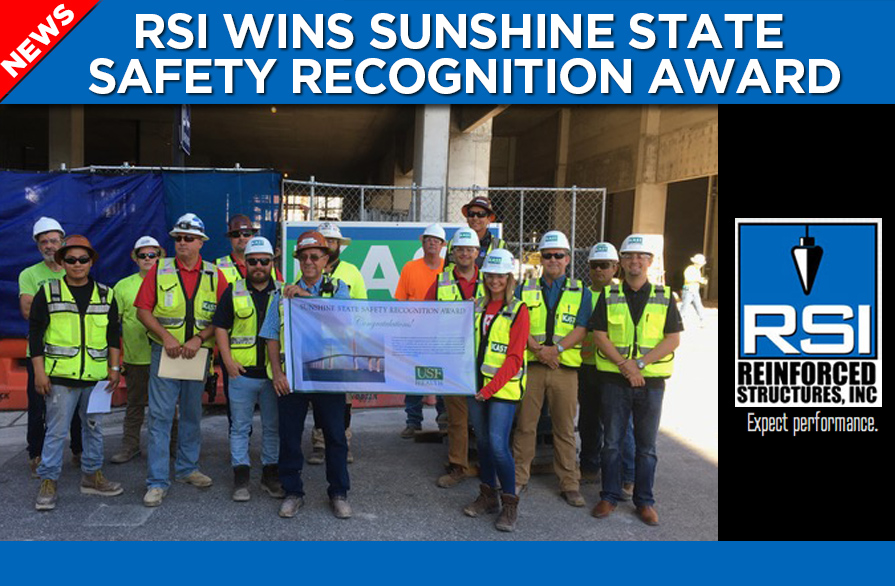 RSI Concrete received the Sunshine State Safety Recognition Award for its work on The Mark project in Sarasota, recognizing RSI for the safe environment it provides employees.
Kast, the general contractor for the project, partners with USF SafetyFlorida and their consulting program to reduce work-related illnesses and injuries through onsite workplace consultation.
USF walked the job site for about 4 hours and completed a general audit of safety and health issues/items. The audit included reviewing existing programs and practices, as well as observing work processes in the workplace to identify specific hazards.
The project began in January of 2018 and is expected to be completed in August of 2019. RSI has 75 employees working on this specific project (and employs 386 overall). The finished building will be a 12-story concrete and steel structure that will include 157 condo/apartment units, a four-story parking garage, retail units, and office space. The Mark will have 378,000 air conditioned square feet, with more than one million square feet total.
RSI looks forward to continuing to work closely with Kast Construction for on-time and within-budget completion of the concrete portion of the project.