News » RSI Celebrates: The Dalí Museum's 10th Anniversary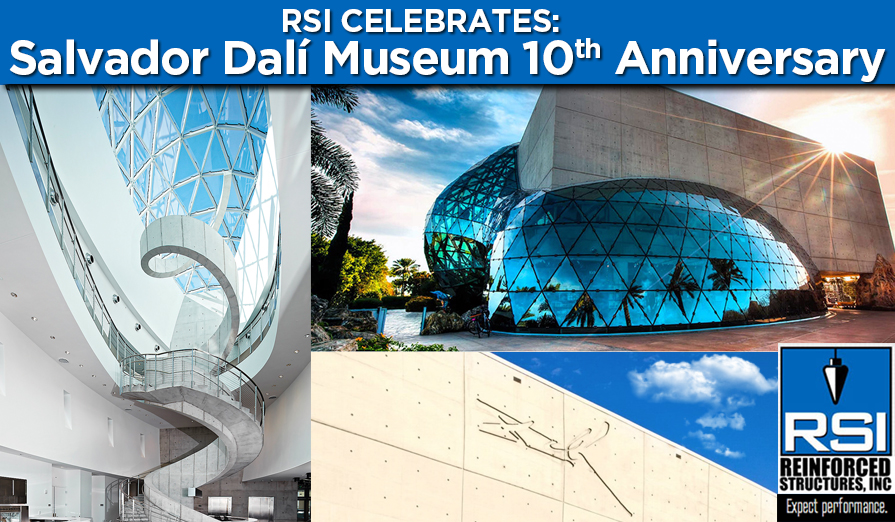 On January 11th, the Dalí Museum in St. Petersburg celebrated its 10th anniversary. The vision for the museum was to create a building that reflected Dali's style both inside and out, and RSI played an integral role in accomplishing that vision by handling the concrete work for the project, a $30 million, 66,400-square-foot structure. The museum is now home to more than 2,000 works including nearly 100 oil paintings; over 100 watercolors and drawings; and 1,300 prints, photographs, sculptures and other pieces of art.
Architectural firm HOK's Tampa office designed the new museum in collaboration with the Tampa office of Walter P. Moore as structural engineer. The structure combines the rational with the fantastical: a simple rectangle with 18-inch thick hurricane-proof walls out of which erupts a large free-form geodesic glass bubble with 1,062 glass panels known as "The Enigma." The building is designed to withstand a Category 5 hurricane and was built with 10,000 yards of concrete and includes 1,000 tons of reinforcing steel. Building strengths were measured at more than 7,500 psi.
"...we were worried about using architectural concrete for the design of the new Dali Museum. RSI did an extraordinary job and we couldn't be more pleased with the outcome. We are all very proud of the way the museum turned out, thanks in large part to RSI."—internationally renowned architect Yann Weymouth of HOK.
A major focal point of the new Dalí Museum is a 56-foot-high spiral concrete staircase that starts in the building's first floor lobby, carries visitors to the third-floor atrium, and winds upward into a taper toward the top of the building's glass atrium.
Weymouth's design for the staircase included the use of self-consolidating concrete (SCC) – the first building in Florida to use cast-in-place SCC as an exposed architectural concrete finish. SCC is a typical concrete mix doused with admixtures to make the mix highly flowable. RSI worked very closely with the design team to ensure their vision, and the end result was beautiful, smooth and seamless walls.
RSI's efforts paid off by having the opportunity to be part of the construction of a landmark building, which was awarded the Associated Builders and Contractors Excellence in Construction Project of the Year 2011.
"A lot of teamwork went into this building," says RSI president Steve Whitley. "When we got this job we picked an A-Team, from the concrete supplier to the formwork supplier to the reinforcing supplier. Along with the structural engineer, general contractor and architect, we were all involved in planning. It was an interesting job and everyone was involved in making the project a success."