News » Project Top Out: Pier 66 Phase 1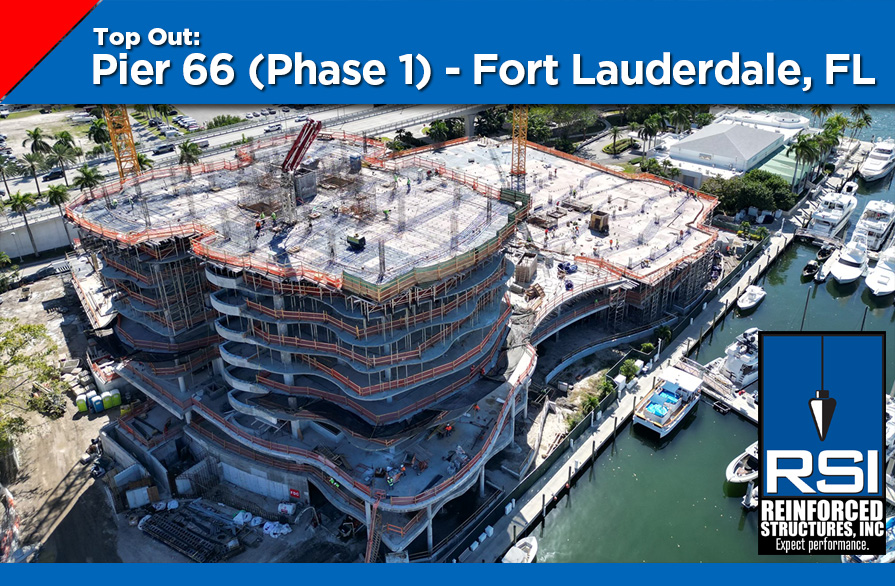 RSI is providing a turnkey concrete package from foundation through rooftop for Phase 1 and 2 of the new Pier 66 residential project in Ft. Lauderdale.
The two-building project is in one of the most recognizable and luxurious marinas of Fort Lauderdale. The first building will house 38 units, including a private plunge pool in each unit's balcony. The first two floors of the building will include office space, restaurants and shops that will create a new Marina Promenade that runs along the waterway.
RSI has poured 25,493 cubic yards of concrete, and used 1,853 tons of steel and 514,000 pounds of post tensioning cables, for the first building (Phase 1) of the project.
RSI's work on the second phase of the residential portion of the project, a second 10-story condominium tower similar to the first, will begin in April.
The residential towers are part of a larger Pier 66 renovation that includes the hotel's Pier Tower, which was severely damaged during Hurricane Irma.

RSI is working with the general contractor, Americaribe-Moriarty Joint Venture, for on-time and within-budget completion of the concrete portion of the project.